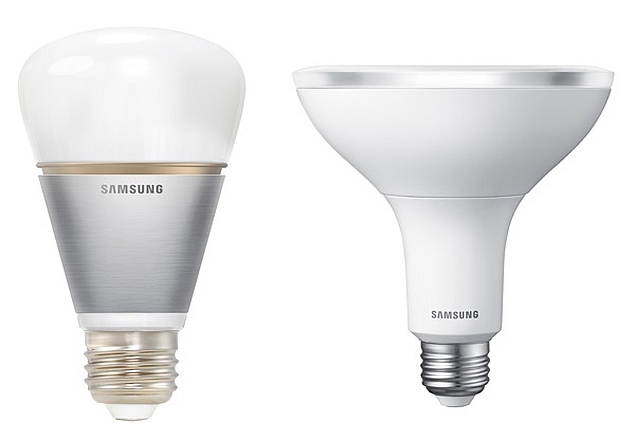 Samsung Electronics
introduced its own Bluetooth-connected
LED lamps
, which it is also calling
Smart Bulb
. This new range of LED Smart Bulbs are lighter and sport a decorative classic design. According to Samsung, unlike traditional Wi-Fi controllable LED lighting, its Smart Bulb utilizes Bluetooth technology eliminating the need for a bridge and wireless AP. Samsung says this enables the user to connect and control its Smart Bulbs directly from a smartphone or tablet PC.
By installing the unnamed Samsung Smart Bulb mobile and tablet app, users can access and control of up to 64 Smart Bulbs with no additional equipment or set up required. The Smart Bulb can be dimmed down to 10 percent brightness and is CCT tunable from 2700K (arm white) to 6500K (cool white) colour temperatures.
Samsung says its LED Smart Bulbs have a lifetime of 15,000 hours per Smart Bulb, equating to roughly 10 years. B2B customers can deploy the Zigbee Smart Bulb Bluetooth hub to control the bulbs from further away than direct Bluetooth of their smart devices. No details on pricing of these LED Smart Bulbs are known.
Liked the Post??Get &Share All this Interesting Stuff in Your Mailbox for Free.
Subscribe